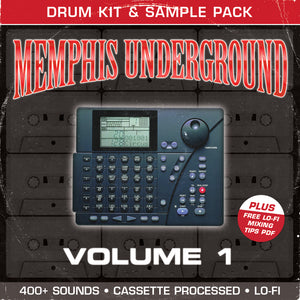 Loaded Samples
Memphis Underground Vol. 1 Drum Kit
Regular price
$24.99
$0.00
Unit price
per
This Sample Pack is designed to authentically capture the 90s Memphis Rap Sound. We recorded and processed sounds from the original DR5* Drum Machine which was used by many Memphis Rap Producers. This pack includes all of the original DR5* Drum and Instrument sounds as well as Tape & Lo-Fi processed versions of the drum sounds. The DR5* Drum Machine was one of the original machines that defined the 90s Memphis Rap sound. This kit also includes a free pdf with lo-fi mixing & VST techniques.

INCLUDES:
220  DR5 Original Drum Sounds (processed through an Analog Mixer)
86  Tape Processed DR5 Drum Sounds
39  Lo-Fi Processed DR5 Drum Sounds
82  DR5 Instrument Sounds (Multiple One-Shots included for maximum flexibility)
Tape Hiss & Vinyl Record Crackle FX
FREE Lo-Fi Mixing & VST Tips PDF
FAQs:

"Is this pack Royalty-Free?"

This pack is 100% Royalty-Free.

"Is this pack compatible with __________ ?"

The samples in this pack are .WAV files, which means they are compatible with any music production software (FL Studio, Ableton, Logic, etc.). These samples are also compatible with all hardware samplers (MPC, SP-404, etc.).
(*) DR5 is a registered trademark of Roland Corporation.
The sample pack presented on this page is in no way affiliated with this company.
This guy the only one that's making authentic 90s Memphis sample pack
It literally look everywhere and I mean everywhere to find Memphis one shots kits specifically the 90s type sound. So many recycled kits out there. Makes mixing difficult but ever since I saw the infamous ad on Instagram. I knew I had to cop and loaded samples is the only person that I buy any drum kits from. This kit is incredible and 25 dollars your definitely getting your moneys worth. If your spectacle about buying this kit. Take it from me. Go for it, you will not regret it, even with this kit that's design to make authentic 90s Memphis sound, you can make other genres with this kit. Definitely go buy you this kit mane. This that dope shit mane 💯
dope kit
glad I purchased. The snares are insane and several different percussion instruments
Burnxr 503📼🏚️ CrazyHouseClick1995
Dope pack
This is great. I was hype when I was listening to it. Good buy
---